Sunland Park Racetrack and Casino
Sunday, January 1, 2017
by Eric Alwan
---
Diabolical Dame leads all-Todd Fincher trifecta in $65,000 Bold Ego Handicap
---
Diabolical Dame returned to top form and led an all-Todd Fincher trained trifecta in the $65,000 Bold Ego Handicap at Sunland Park Racetrack and Casino on Sunday.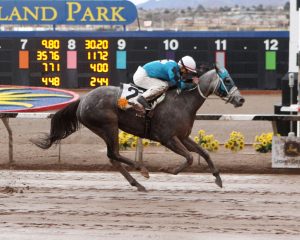 Racing over a track labeled as slow, Diabolical Dame rated kindly off the pace under a fine ride from jockey Tracy Hebert and unleashed a powerful flourish of energy down the stretch. The New Mexico-bred daughter of Diabolical took control and held safe from her stablemates Bryn's Fancy Pants and Tilla Cat. Fincher trained the top three finishers in the open distaff stakes.
The Bold Ego triumph was the 12th career win and first open stakes win for Diabolical Dame. She is a multiple stakes winner against New Mexico-breds fillies and mares with earnings nearing $500,000. She earned $39,000 for owners Joe Dee Brooks, Scott Bryant and Derrol Hubbard. Diabolical Dame avenged a prior defeat to Bryn's Fancy Pants in the New Mexico State Racing Commission Handicap on opening weekend. On Sunday, she held off that same foe to win by a one-length and covered the five and one-half furlongs in 1:04.77. The 9-5 favorite paid $5.80
Fincher has already won three stakes race this young meet. Bryn's Fancy Pants won the New Mexico State Racing Commission Handicap and Sippin won the La Senora Stakes.
---
He's Another Who closes fast to win $85,000 Four Rivers/John Deere Stakes
---
He's Another Who came from last to first to take a rousing victory in the $85,000 Four River/John Deere Stakes going 6 furlongs. The victory marked the first stakes win for the former award winning jockey turned trainer Casey Lambert.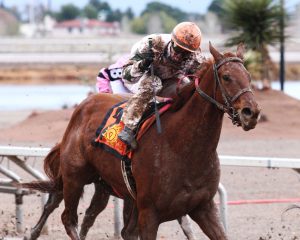 Under jockey Justin Shepherd, He's Another Who launch a wicked stretch running attack over the wet surface. The recent maiden winner from Zia Park must have made up 6 lengths in the final quarter mile and ended up winning by one and one-quarter lengths. The three-year-old New Mexico-bred son of Quinton's Gold seemed to relish the off going and finished fast to overhaul runner-up Go for a Stroll.
He's Another Who earned $51,000 for the Championship Racing Stable of Weatherford, Texas. Trainer Casey Lambert deserves great credit for developing the newly crowned stakes winner. The 7-1 longshot paid $17.40 on a $2 win ticket.
Go for a Stroll wound up second, one and one-half lengths in front of pace setting El Tulie. The 2-1 favorite Happy Hennessy finished a well beaten fourth.
Live racing resumes on Tuesday at 12:45 p.m.
---
Photos courtesy of:  Coady Photography